"Tsumaikichi, a talented geisha of Osaka's Horie district, lost her ams at the age of seventeen when the propietor of the house she belonged to went on a murderous rampage and attacked six geishas, five of them fatally. She overcame her condition, became a comic storyteller and singer and then, in her twenties, began to do calligraphy and painting with her mouth. After her marriage and the birth of two children, Junkyo supported herself painting kimono and obi. Eventually, she became a Buddhist nun, devoting her life to the copying of sutras, calligraphy, writing books, memorializing the victims and helping the physically handicapped. In April 1951 she founded the Bukkoin, a temple in southeast Kyoto. She passed away at the age of 81 in April 1968"
Another Japan Air Lines press photo this time from the 1960s. Her Kimono is exquisite, with what appears to be Wild Geese in flight over a delicate background of Interlocking Swastikas (a Buddhist motif), interspersed with flowers and arabesques.

"This is a maiko, a young girl in training to be a geisha. Maikos are distinguishable by the large obi knot worn in the back. Obis symbolize the wings of a butterfly and a young butterfly (a maiko) has larger wings in proportion to its body than a full-grown butterfly (a geisha)." [The remaining text is missing] From a Newspaper Clipping on the reverse dated, September 12th 1965.

"Pretty maiko [apprentice geisha] turn their backs to reveal their exquisite obi sashes – their trade-mark. Teen-agers now, when they mature into geisha their sashes will be folded in back. At left is a sideview of a maiko's large and deep obi. Obis symbolize the wings of a butterfly, and a young butterfly [a maiko] has larger wings in proportion to its body than a full-grown butterfly [a geisha]." [The remaining text is missing] From a Newspaper Clipping on the reverse dated, April 15th 1973.
Julie Andrews as 'Cinderella', 1957.

Look at how precious and beautiful she was. Guh, I can't. <3

Years ago, I heard that Julie Andrews almost wasn't cast as…I think Mary Poppins, but it could have been Maria in "The Sound of Music" because they didn't think she was pretty enough. DOUBLE YOU. TEE. EFF.
Gorgeous golds! Let the sun shine… (but not on my face please - but I'll be ready with these face sunburn healing tips anyway! haha) (via dressdesigndecor)
The eyes are said to be the mirrors of one's soul. Check out these cool eye designs and maybe you can try one or two on yourself.

Charmedwishes…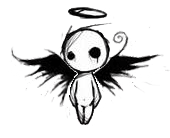 Blessed be!
Butterflies flying
Colors blowing my mind
Green grass
Red roses
A sweet wind in my face..
If its part of me…
How can I hide my mistakes?
If its my present..How can I forget my pain?
If my soul is broken..
How can I rest?
My butterflies are ravens
My flowers are tears
My pond is full of blood
Because I dream with nightmares
Because my roses are in my grave'
Cause The darkness is my light..
and I'm almost sure that its is not my world
Its just a fantasy


Yahoo! Its my 200th post. I can't believe how time flies. Time passes so quickly when you are enjoying what you are doing. In honor of my 200th post, I will be sharing something more about me, the author of this blog.

But before I do that, l just want to thank the lovely people who followed my blog. I now have 20 followers, yehey! I love you guys, thank you, thank you, thank you! You people really inspire me to do my best. I just hope that you guys are enjoying the things I post whether it is scary, funny, etc. Whatever I post here, its just something that crossed my quirky mind, something that I want to share about me.

Which brings me to another topic: How long will I remain single? Sigh, I have been loveless for so long now. Don't say I haven't tried looking for my Prince Charming, because I have. Like the Princess in the story, I have been kissing a lot of frogs, but none of them turned into a prince. Its all been me taking the chance and then me losing in the end.

I know, people have been saying, you should be patient, the right guy will come, just wait and see. Well, I am not getting any younger here. I will be celebrating my 28th birthday in October. At my age, most people already have their own family (not that I want to have a heterosexual relationship and get married), but what about me? I do want romance and to feel loved and be loved. Which brings me to yet another topic: How come my younger siblings have lovelives and I do not?

I am the eldest of 5 children, my younger brother is already living with his girlfriend and they share one apartment. My middle sister already has a baby with her boyfriend. My youngest sisters (they are twins) have their own boyfriends. The longest relationship I had only lasted for 4 months (no matter how hard I tried to save the relationship). I can't help but feel jealous and wonder how come they have people who love them and I don't.

This only adds to my somewhat very low self-esteem. I have already said in my previous post that I am doing my best to be more confident and to love myself. But its so difficult, honestly. Its hard trying to know your self-worth when things do not go the way you want it to go.

Right now, I could say that blogging is very therapeutic for me. I meet so many wonderful people, and these people share their own lives and I learn so many things about them. When I started this blog, I thought nobody will be interested to read (my low self-confidence speaking again) but you guys proved me wrong. That's why I am so grateful. Will you guys join me to my journey to wherever it leads me?

Okay guys, better close this now. I am getting teary-eyed again. I am so emotional. Take care and enjoy!










Charmedwishes…



Blessed be!


In just a few more hours, we will be crowning the new Miss Universe for 2009. I am so excited to watch this, not because I am in anyway related to the Philippine delegate, its just that it will be another feather in our country's cap if she does win. I haven't had the chance to watch this girl's progress closely, but based on what I heard, she truly has a chance to bag the crown.

We only had 2 Miss Universe in the Philippines, Gloria Diaz (1969) and Margarita Moran (1973) and hopefully (keeping my fingers crossed), Bianca Manalo will be the 3rd Miss Universe. I love watching beauty pageants, probably because I love looking at beauty and enriching my life with it.

Which brings me to the subject of beauty. I have to admit, dear readers, that I am suffering from what is commonly known as "inferiority complex". If you have known me in person, you will know how shy and introverted I really am. I was never the life of the party, I never greet people first, afraid that they will ignore me. This started when I had the WORST case of acne when I was merely 13 years old. I was just about to start high school then and I had to transfer to another school, it was really difficult for me to make friends. I felt I lacked "beauty", physical beauty that is. I felt I was the most unfortunate person in the world. To add insult to the injury, my younger sister was starting to bloom at that time, so imagine how I felt when people say how pretty she is and then there I was, looking absolutely miserable.

But looking back on it, it was difficult for me to make friends that time not because the people around me alienated me, it was because of my very low self-esteem. As I said, I was painfully shy and I seldom talked. Some people actually thought I was mute, it was that horrible. But as time passed by, I slowly began to realize that its okay, even though I will never be voted as the cutest guy in school, what's important is how you project yourself. I felt that instead of being so down because I think I am ugly, why not bring emphasis on the things about me that people will like. I was a voracious reader and even back then I could speak English very well, that what set me apart from the others. I gained the reputation of being a very serious person, in my yearbook the comment underneath my picture was "Russel was neither popular nor outgoing but he is amiable".

The yearbook comment made me sad at first, I mean why do they have to point out me not being popular nor outgoing? Amiable, hmmmm. It makes me sound like I am so dull. Anyway, after graduating from high school, I tried to reinvent myself. I didn't turn into a wild person but I did my best to reach out. It worked, I think. Hehehehe. Until now I am still trying to resolve the issues I have within myself. Its not easy but hey, nothing worth having is ever easy.

Well, I am not sure if I am still making sense here, so I better go to sleep now, I still have to watch Miss Universe later. Let me close this with this lovely poem:


Take care and enjoy life!
Charmedwishes…

Blessed be!
Next